A love for good books and good stories has to be nurtured carefully. And Gurgaon Children's Literature Festival does just that. This flagship event of Vega Schools recently concluded its 2nd edition- a highly successful event that let children and parents immerse themselves in a world of stories, expressed through a myriad of forms. The festival featured some of the stalwarts of the world of literature and storytelling in India and abroad. This year the festival expanded its scope to include many award-winning children's authors, nationally and internationally acclaimed storytellers, renowned theater artists, puppeteers, and published illustrators, adding a new dimension to the festival.
The 2-day event, held on 20th-21st January, 2018, saw some famous names, such as thought leader and author of great works such as 'The Difficulty of Being Good' – Gurcharan Das, renowned cartoonist – Ajit Narayan, internationally acclaimed storyteller – Geeta Ramanujam, renowned Dastango – Fouzia, and the Kabuliwala with a bagful of stories – theatrical storyteller Kamal Pruthi.
The event had something for everyone. Toddlers in the age groups of 3-6 years had fun with puppets, musical storytelling and theater for kids. They even tried their hand at making their own puppets with Dramabaaz Company. Kids in the age group of 7-9 years immersed themselves in stories by popular kids' authors such as Anupa Lal, Rupa Gulab, Benita Sen, Deepak Dalal and 'Ninja Nani' Lavanya Karthik. They even tried their hands at writing their own stories in a creative writing workshop conducted by author Richa Jha.  Older kids, between 10-12 years tried their hands at a host of activities, including cartooning, creative writing in different genres, poetry-writing, theater and storytelling through as well as poetry.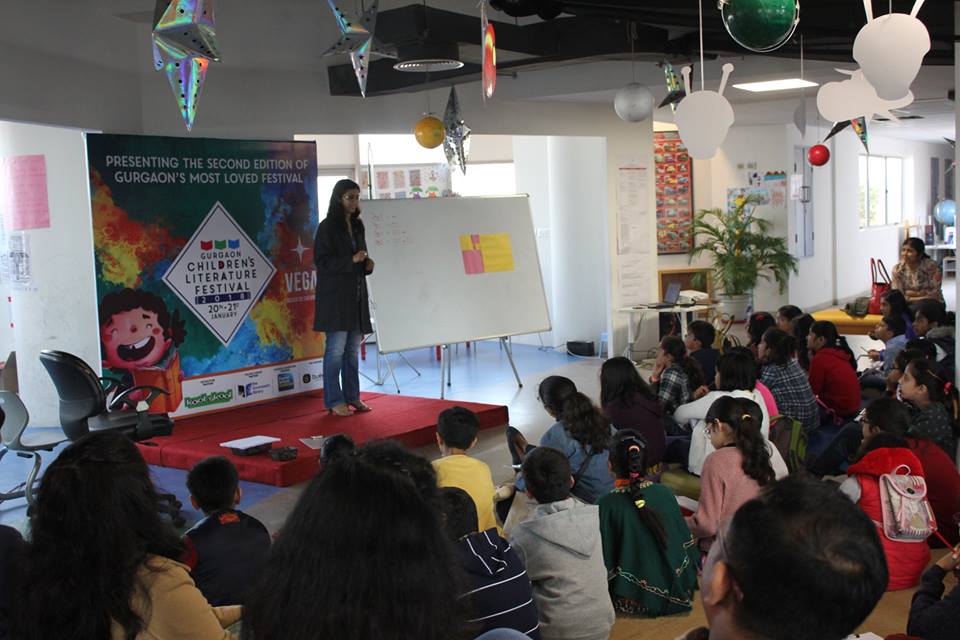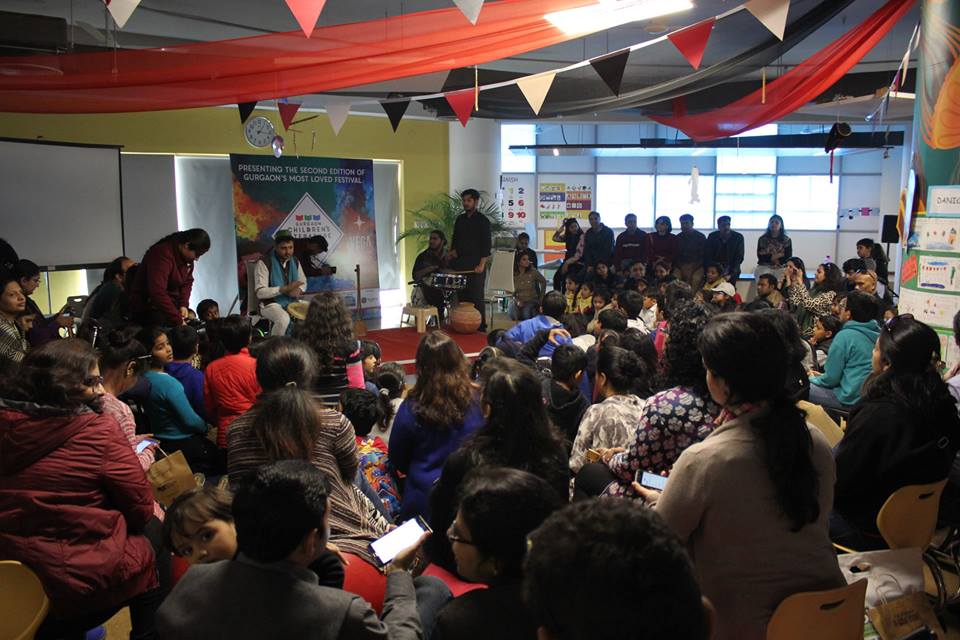 Parents had more to do than wish they were kids again! The event had parents covered as well, with interactive workshops by Dr. Shelja Sen, Dr. Tanu Shree Singh and Kevin Missal, as well as a hilarious theater act by the Purple Mangoes Theater Group. Renowned Bharatanatyam dancer – Tanya Saxena and storyteller Seema Wahi presented 'Stories in Dance', a classical recital that explained the use of elements of dance in storytelling.
"We need a directional change to move our children away from gadgets and malls, and bring them closer to reading and story-telling. This is an effort to move the needle in that direction. We are extremely honored  and encouraged by the fact that this two day 'only children's' lit-fest in Gurgaon has been received so well by the parents of Gurgaon. We will not stop here but through our free community library we will keep doing several follow-up sessions to take the effort forward", said Avishek Roy, Founder of Gurgaon Children's Literature Festival and Head of Community Outreach at Vega Schools, Gurgaon.
With a well-organized, expertly managed and perfectly executed 2nd edition, GCLF has earned its space as one of the most awaited Lit Fests in India.
—
To list your events on Tell-A-Tale, get in touch at editor@tell-a-tale.com.