Stories shape strong characters, and that makes a storyteller an indispensable part of a cultured society. Srividya Veeraraghavan of Story Train is a storyteller who believes in just this philosophy.
A mother and a professional storyteller, Srividya aims to facilitate the shaping of a child's character through the deep rooted values and ethics carried in stories. Stories inspire people to lead their life happily, and effective storytellers have great power in their hands. In a chat, Srividya told us candid details of her journey as a storyteller. 
Why do you think is storytelling important?
I believe an effective storyteller is very powerful. He/she can shape the thoughts and mentor the minds of people to bring positivism in the world.  Great inspirational leaders are thus referred to, and remembered as, storytellers more than anything else.  This is what makes me a proud, happy and a passionate storyteller, attempting to reach out to every age group irrespective of any criteria.
What influenced you to become a storyteller?
"What are you going to leave behind in this world when you are gone?"  A question that I heard, triggered in me a fire. This was just when I had happily left the corporate world of HR. As a follower of Dr. Kalam and Swami Vivekananda, I realized that I should do something which would contribute to a legacy. This pondering made me restless.
I have been writing since childhood, mostly for my small circle of family and friends. I also acted as the story-genie for my friends since I was 8-9 years. I recollect that they loved me for all the stories I would tell them – some made-up and some original. Due credit to my mother who could never make me eat without feeding me a story along with the food!
As with everyone else, I got caught up in the practical world and the societal expectations of taking up a 'safe' career. And had all but forgotten about my inner passion and narration skills.
During the introspection, I strongly felt that I could make a difference with storytelling. I attended a professional workshop on storytelling by Dr.Eric Miller from the World Storytelling Institute which eventually influenced me to explore the world of professional storytelling.
I tried to create my own style of oral storytelling.  I am still learning and trying to sharpen my skills so that I can give the best possible experience to my audience and trainees. Like they say, I have miles to go before I sleep.
The Story Train is an interesting name. How did you come up with the name and how has the journey been so far on the 'Train'?
I took up storytelling professionally after attending Dr. Eric Miller's workshop. My venture needed a name. The very first idea which came to me was a 'train'. Most of us have grown up with fond memories of long train journeys. Story Train depicts a journey while listening to or sharing stories. I wanted it to be a train packed full with enchanting stories from across the world for people of all ages. A place where not just me, but also my co-travelers could contribute stories.  I wanted my audience and trainees to travel along with me to the world of stories. The logo of Story Train is thus a steam engine pumping colorful bubbles in the form of story-thoughts.  Story Train was born as an idea and as a venture in May 2016.
Fortunately I got some of the best opportunities at work. I worked with leading schools, government libraries, voluntary organisations, special events and public major performances. Recently I had the opportunity to be part of the team of performers on Podhigai's (Doordharshan Tamil) exclusive storytelling programme.
My backbone is my family and without their support I don't think I could have made it this far within such a short span. Encouragement from my mentors and well wishers means a lot as well.
There are challenges of course – some of them are marketing, funding and keeping myself fit mentally and physically to balance both family and work. Apart from that this profession is soul satisfying.  I always strive to be original and enjoy whatever I am working on, without worrying too much about the results. This helps me remain balanced and handle the challenges.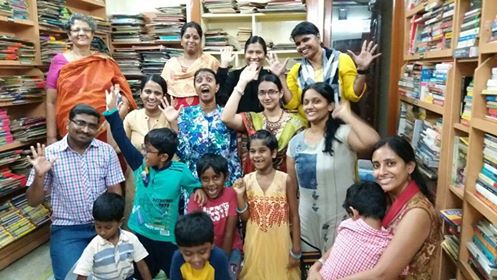 Tell us more about the audiences you work with.
I work with all kinds of audiences – toddlers who love watching you perform exaggerated expressions and are there for the songs and dance, children who love to imitate your words and actions, adolescents who sits quietly listening to their inner voices inspired by the stories that highlight issues they may be facing, and adults – irrespective of age, gender or groups to listen and share the many stories they love to hear or tell.
In the future, I hope to work exclusively for the elderly age groups – in old age homes and specially abled people in their respective institutions, and maybe even as part of my regular sessions.
How do you set yourself apart from other storytellers?
Using vernacular medium is an essential skill that storytellers need to develop. I can tell stories and conduct workshops in English, Hindi and Tamil. There is a greater connect and the audience see me as a story itself. And there is a greater energy. When I see this energy getting transmitted to my audience and see the expressions on their face, that is like magic. I don't compare myself to anyone. I am just doing my job which I love.
Any particular incident/anecdote from your workshops/sessions that is special to you?
Every session or workshop has been special to me.  One session stands out though. I was narrating a story to a group of children in a public space. Post the session, a parent approached and thanked me. I thought it was a usual appreciation. But then he mentioned that he had thanked me for his teen daughter who was autistic. She was so engrossed in the storytelling and thoroughly enjoyed it. I was deeply touched and thankful to God for giving me this power.
Another incident was from a session at a birthday party. At the end of the session, the grandmother of the birthday child came to me and said, "I was so engrossed in your story. I never thought a story could be told like this." Coming from a grandmother, that was the highest level of praise.
Any story that you particularly love using?
This is one story that has captured my heart so deeply – "Birth of Story – A folktale from the Seneca Tribe" which describes how stories were actually born in this world through a big rock, and how a small orphan boy takes these stories to his tribe, and from that tribe to the whole world, eventually to all humans.
From our Indian folklore, I love Vikram & Betal and Panchatantra stories for children. Folktales and mythological stories help me connect with the reality of our world.
You advice to those who want to pick up storytelling as a profession.
An effective storyteller is very powerful in influencing and mentoring others. Storytelling is useful in all fields – whether it's business, corporate, educational institutions or special institutions.
If you are passionate and committed about storytelling then nothing can limit you.  It can be taken up part-time or full time, and by anyone, irrespective of age, gender or location.  The only challenge as of today is to get regular and consistent projects to work on, since this market is yet developing. Hence you have to keep your eyes and heart open to keep learning and growing.
—
Story Train is an enchanting experience with colorful stories and workshops for people of all ages. It provides an exciting journey to Dig, Explore, Learn, Feel Inspired, Smile, Get moving and Be happy.
—
Don't Miss: We love storytellers as much as we love storytelling. On Tell-a-Tale, we've featured a lot of talented storytellers, in the past.
Are you a Storyteller? If you're a storyteller who is actively pursuing storytelling and would like to be featured in this column, drop us a mail at contact AT tell-a-tale.com or reach out to us via Facebook.