Some things in life happen for a reason – and then something magical comes out of it. This is exactly what happened with Debjani Bhaduri of Kahani Connects. In a candid chat, Debjani tells us of her journey as a storyteller.
Tell us about Debjani – the person and the storyteller. 
I am friendly, and like all storytellers, a good listener and extremely talkative at the same time, that allows me to be empathetic. As a storyteller, I am an animated, intense and expressive teller. I love to help my audiences visualize the story and feel it. I try to make them empathize with the characters and realize their feelings and aspirations, their dreams and pain..
What influenced you to become a storyteller?
Compelled by circumstances, I had to quit my full time teaching job. It was then that I was desperately looking for something, with which I could engage myself passionately, yet would not require a full-time commitment. Fortunately, I got an opportunity of narrating and scripting for a Bengali Storytelling company. The owners of the company turned out to be angels in disguise for me. They encouraged me and guided me to undergo a formal training and take up storytelling as my profession.
Tell us about the story of Kahani Connects. How did you start it, and its beliefs?
I don't believe in branding and names. To me it is my craft and my listeners who matter. But after a period of time, I realized that branding and marketing is the way of the world. Perhaps, that's the reason I was encouraged enough to setup a brand that I can call my own creation. My listeners always tell me that they connect with my story well. Stories have also been the medium that connected me with so many people in a city which is new to me. I know its language only through my stories. So Kahani (story) Connects..
At Kahani Connects, I work with all age groups – right from three and a half to sixty. I believe in versatility and stories are an ideal medium that lend themselves very well to that.
Have the stories in your life influenced your style of storytelling and the way you use stories? How?
Yes. Having limited scope for socializing, it is my storytelling only which helps me to have interaction. Therefore, my style becomes natural.
Any particular incident/anecdote from your workshops/sessions that is special to you.
Once I had a session at a seminar for senior citizens. I went with zero expectation, wondering how the older generation would accept my story and my style. However, to my astonishment, they were extremely appreciative and enthusiastic. Finally, they named me 'Queen of the seminar'!
Another great milestone is telling stories at the "Under the Alamaram", an international storytelling festival in Chennai.
Any story that you particularly love using?
My favorite is an East European Folktale…recollected by Margaret Read MacDonald. It is a fight between two goats over crossing a bridge. And at the end they resolve the conflict by squeezing and making way for each other. But it has a deeper meaning I believe. I can relate it to issues of conflict in our society across age groups.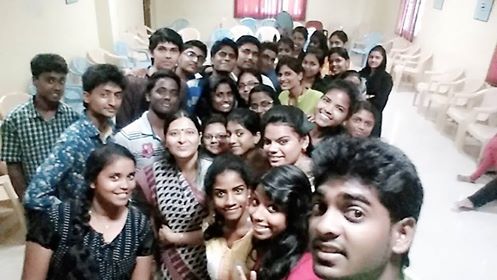 Do you think storytelling can be adopted as a full-time profession? Why?
Yes, with a certain struggle. There is huge scope in the field of Corporate Storytelling. Currently, I am coaching professionals in a corporate – developing soft skills through Storytelling. If more and more corporates realize the importance of storytelling and are ready to engage storytellers, they can really make it their full time profession.
You advice to those who want to pick up storytelling as a profession.
Believe in the power of Stories.
—
Don't Miss: We love storytellers as much as we love storytelling. On Tell-a-Tale, we've featured a lot of talented storytellers, in the past.
Are you a Storyteller? If you're a storyteller who is actively pursuing storytelling and would like to be featured in this column, drop us a mail at contact AT tell-a-tale.com or reach out to us via Facebook.