There is not a soul in this world who doesn't like a good story. Be it a 50 year old or a 5 month old. There is something about the voice, actions and intonation that magically transports the listener to a land where pictures take shape and colors run amock. C Mangalam Senthil of KathaKuteeram is a storyteller who believes that every person loves listening to stories, and every conversation is a story in itself. She loves traveling as travel provides her with an endless supply of stories. Her sessions are sprinkled with doodling, calligraphy and music, keeping her listeners enthused and excited.
A firm believer in the power of stories, she's absorbed stories from her surroundings and people around her from a young age. She has now found her niche with respect to the stories she loves and the stories that love her. The harmony that happens when such a Eureka moment happens – when she can 'see' a story and the different ways of sharing it, where she understands how she can be the 'medium' for the story – is like falling in love for the first time. Such stories often leave her as spellbound as her audience.
We spoke to her about storytelling and her experience transitioning from something perceived so mundane as engineering, to something as interactive as storytelling.
You come from an engineering background. What influenced you to become a storyteller?
As a kid, reading stories helped me stay happy and motivated. My profession enabled me to interact with various people from different backgrounds. The listener in me was thrilled listening to personal experiences shared by people – people who had faced many difficulties and managed to overcome them against all odds; people who got help out of nowhere and went ahead to achieve their dreams. Being a lecturer also gave me many opportunities to cook up stories and to hear stories from students !
My mother and daughter influenced me to become a storyteller. As a two year old, my daughter would look forward to my special storytelling time. To make her happy, I worked harder to gather new stories and practice more. For more practice, I needed more listeners. My audience grew steadily with my extended family – nieces, nephews and young kids who were ready listeners and craved new stories.
How has your journey as a storyteller been so far? Tell us about your venture KathaKuteeram.

I was constantly in quest of new stories. The collection of stories at Little Readers' Nook appealed to me and I decided to add their storytelling sessions to my kitty. I tell stories because I love and enjoy them. Since I do not favor any one particular kind of audience, the range of stories I use is also vast. There is a certain pleasure in watching a person in their fifties giggle like a child while listening to a story. As is the joy when I see a three year old laughing and totally engrossed in my story. Every session is unique in its own way. For e.g. when I do storytelling sessions at birthdays, it's quite funny as we are all waiting impatiently for the yummy cake out there !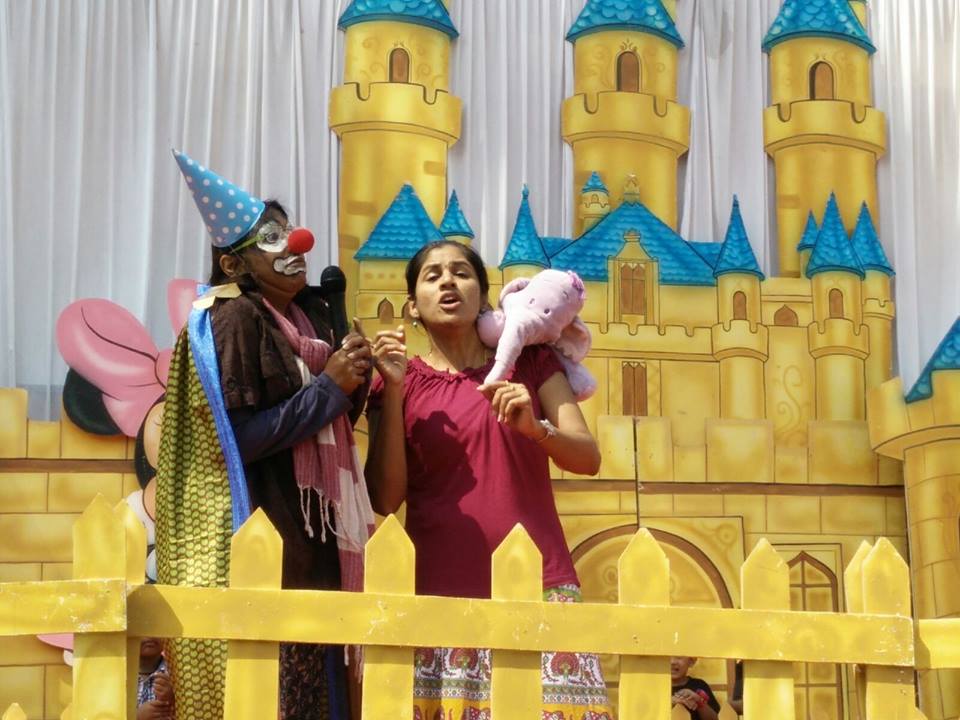 How have the stories in your life influenced your style of storytelling and the way you use stories?
Everybody, everywhere, at every moment is telling a story – that's my belief. Each incident, every experience is a story to tell later on. When I was four years old, I told my uncle that my dad had abandoned me at a crowded temple and that I had to be brought home by my dad's brother. My uncle believed it to be true and pulled up my parents about it. Since then I have been spinning and cooking stories. Even my engineering project presentation had a story in it !
My mother gives me a lot of ideas and tips on storytelling, which have been immensely useful. The older generation understood and embraced the storyteller in them, much more than what our generation does. It is a great resource pool, if only we tap into it.
I have faced college students as a lecturer and later as a IT professional, a soft skills trainer, a counselor, a storyteller and now a teacher again. These different roles have helped me gain perception of people and their thinking, and given me the necessary courage required to face crowds of different age groups.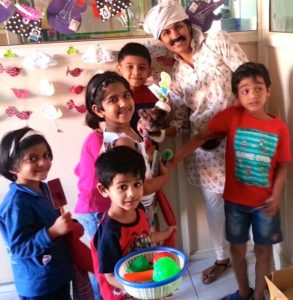 Any particular incident/anecdote from your sessions that is special to you?
All my sessions have been highly fulfilling and memorable. However, when I receive a hand made 'Thank you Aunty' card or when a kid comes to me after the session and tells me he wants to go home with me because he loved my stories or when kids come and hug me after I finish a story, I feel very good. I fall short of words to explain that wonderful feeling..
When kids come up asking for stories, I feel content. I have passed on the love of stories to them and my job is done.
When I revisit schools, I feel thrilled when children recollect characters from stories I previously told them.
I feel special when in a session someone much older than me comfortably shares their life experiences with me.
All these are experiences that are written into my memory forever.
Any story that you particularly love using?
I pick up stories which I love and which in turn love me. Some of my favorites are Chrysanthemum, Dr. Seuss Thidwick and Horton stories, Uncle Pai's stories, Malgudi days and folk tales from around the world.
Do you think storytelling can be adopted as a full-time profession? What is your advice to those who want to do so?
If doing what you love, being able to give your hundred percent to it, looking forward to doing it everyday is what makes it a profession, then storytelling is definitely a fun-filled, satisfying and enjoyable profession. The world needs storytellers today. And oral storytelling makes the quickest connect with people. Stories are so very powerful that they help in healing too. Storytellers could act as the catalyst for change, something very important in the transient times we live in.
For those who want to become storytellers – just love the story,  dive into the story and and dwell in it. Enjoy the telling. If you love people and care about them, then storytelling really helps to connect with people.
Your advice to parents and teachers on why and how they should keep stories alive.
As one little girl put it, "Dear Appa (dad), the audio player can read stories to me,  but it cannot tell me stories the way you tell me." Stories and videos on gadgets can never take the place of live storytelling. Storytelling is an art definitely to be enjoyed, cherished and carried forward 'in first person'.
I heard a lot of stories from my family members. I have seen my uncle do puppet shows with toys to tell stories. Another uncle of mine read to his children till they were old enough to leave their home and move out. In the process he created voracious readers.
Teachers (who have attended my workshop) write back to me saying how introducing new concepts in classrooms were easy with the help of stories. I encourage and help teachers write their own stories to aid teaching various topics.
So irrespective of the age, keep reading stories to children as long as possible. There is no listener age-group for telling stories. Our culture has passed moral values, myths, devotion and changes to our ways of living through stories. Keeping this art alive will only help us in creating a better world bonded with values, love, imagination and creativity.
—
C Mangalam Senthil is a Pune based storyteller and also is a story-educator with Little Readers' Nook. Read more about Little Readers' Nook here.
Don't Miss: We love storytellers as much as we love storytelling. On Tell-a-Tale, we've featured a lot of talented storytellers, in the past.
Are you a Storyteller? If you're a storyteller who is actively pursuing storytelling and would like to be featured in this column, drop us a mail at contact AT tell-a-tale.com or reach out to us via Facebook.
Save
Save