Teaching is a natural extension of stories and adopting stories in teaching, a natural process. Usha Chhabra is one such person who applies the ancient tenets of transferring wisdom through stories, to children. She is a proficient writer of children's literature, and has been teaching Hindi language at Delhi Public School Rohini for the last twenty years. She is also a dynamic storyteller who conducts workshops for teachers, students and children, is a regular at National Bal Bhavan, and has been a part of Jaipur Literature Festival's outreach platform. Usha Chhabra has written textbooks in Hindi grammar and literature, as well as poetry – which she has released as a collection of Hindi rhymes for young children – Tak Dhina Dhin.
We spoke to Usha Chhabra about her love for stories, storytelling – narrative and written, and her passion for teaching.
Your ways of teaching are unique, and we're sure you must be a favourite with students. Could you tell us more about the days when you were a student yourself?
I was born and brought up in Kolkata (then Calcutta). Even though I was very good at studies, I was a complete introvert and a very timid person. I clearly remember staying confined to my room whenever we used to have visitors in the house. Even at school, the situation was the same. This behaviour continued throughout my school and college days.
From a timid student to children's favourite storyteller. That must have been a stellar journey. What brought about the change?
I moved to Delhi after my marriage and began my teaching career. Being a language teacher at the school, I was involved in various school activities that involved creative thinking. I found myself writing extensively – scripts for school plays, preparing kids for competitions, prayer meets or annual functions. Along this journey, I discovered a love for writing.
I also became highly involved with theater and stage activities at school. There was always something new to learn while conducting these activities. I would extensively research the internet to learn the finer aspects of theater. I would then share that knowledge with my students. I was lucky to be in Delhi as the city has a very active theater scene. I was a regular visitor at plays staged across the city. Theater is an extremely powerful medium of expression. These plays taught me a lot over the years. I have witnessed changes in my personality, as well as that of my students, through theater.
So theater played an instrumental role in transforming your personality from a shy, timid student to an influential teacher who has touched numerous lives over the years. Tell us something about your journey in the world of writing.
As mentioned earlier, I was required to write regularly for various school activities. Slowly, I developed an interest in writing and forayed into writing poems as well. Meanwhile, I enrolled for a graduation course in Hindi. This gave me a unique opportunity to be a student on one hand and be a teacher on the other.
During this time, I met a publisher who requested me to write a text book for school students. Reluctant in the beginning, I accepted the publisher's request. I researched a lot about children's behaviour and psychology before starting the textbook. The time spent with the students at school helped a lot. At first, I wrote a series of textbooks for students from grades first to fifth. Then with a different publisher, I wrote another series of textbooks for grades nursery to eighth.

Tell us how you came up with the idea of your beautiful rhymes books Tak Dhina Dhin?
When my children were little, the rhyme books in Hindi available in the market were the same as that available twenty years ago. So, even though they were usable, they felt outdated. The desire for fresh ideas and melodies drove me towards writing small poems which, when paired with catchy music, could be a great source of entertainment to kids, while being informative at the same time. So, in 2011, I wrote a few songs and with the help of my colleagues, I brought these out in the market in two volumes, each comprising of eight poems paired with music. I illustrated the books myself, not compromising on my vision and it showed, as the final books took shape. Today, I am happy that these books have enriched the lives of many kids and I hope that they are enjoying the songs in them.
Purchase copies of Tak Dhina Dhin from Amazon here. 
How did you enter the world of storytelling?
After completing my graduation, I registered for an M. Phil in Hindi. My research was based on Munshi Premchand's well known collection of short stories Mansarovar. (Mansoravar is a collection of short stories that consists of a set of 8 books). Thus, I was introduced to the world of stories. The rich library at my school proved to be my research lab. I read numerous books there. I read a lot of children's stories written by some very renowned writers. I started enacting these stories in front of my students during classes. The kids loved it.
These class activities inspired me to enact these stories outside the school environment. The response received during these storytelling sessions outside the school was also very encouraging. My stories were now benefitting a lot of children from all sections of the society. Stories, when enacted in front of children, leave a lasting impression on their minds.
Whenever parents, grand-parents, teachers or just about anyone offers to tell a story, children are ready to hear it. What is it about the stories that all children are so fond of them?
Here I would like to point that it is not just children, but even adults are fond of listening to and reading stories. The protagonist of the story might be a living person such as a king, or a non-living entity such as a pencil. Stories transport us into a different world. Sometime we even come across characters in these stories that reflect our own personality, with whom we can identify. We laugh with the characters and we cry with them. Some stories have the power to answer some of the most complex questions in our lives. Others take us to an imaginary land from where we never want to come back.
People look for different ways to unwind and de-stress, traveling far and near to do so. But actually, all it takes to unwind, is a good story.
What are the things that you keep in mind while narrating stories to children?
Storytelling is an art as well as a science. While listening to a story, the entire focus of the audience is on the storyteller. While narrating a story, it is important to consider the age group of the children in the audience. Very small children like listening to stories that have animal characters, which involve lots of imagination, and some songs and actions. These ought to be simple stories and the characters in the story should think like kids and resemble them. Rather than focusing on any moral, stories for such small children should be entertaining. If kids can sing along, they enjoy it even more.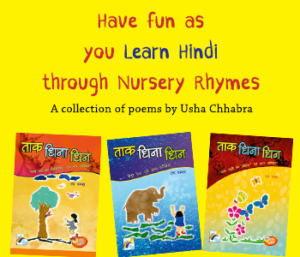 Conversely, stories for older children are based on morals. But the kids are never questioned on what they learnt from a particular story. Almost all kids dislike being questioned on the morals from the story. Morals should just be taught in the form of entertainment with no cross-questioning.
It has been observed the children studying in English-medium schools, do not show much interest in reading Hindi books or vernacular literature. How has your experience been with students at your school, since you also teach at an English-medium school?
To a great extent, this is true. A lot of parents have the same complaint. So, I decided to try something different with my students at school. I carried along some issues of Bal Bharti magazine and other Hindi books from my collection to school and kept them in front of my students. I told them that these were my books and asked who all would be interested in reading them. Some students showed interest and took the books home to read. The next day when some students told me that they read the stories, I asked one of them to narrate a story to the entire class. The story was well received by all the students and many more came forward and requested books.
I saw a slow change happening in the class. Now each student wanted to come forward and narrate their story. I asked them to share their experience. They told me that earlier when they borrowed Hindi books from library, they didn't feel compelled to read the books. But when they borrowed my books, the feeling was different. The fact that they could share the stories they read with their classmates, encouraged them to read those books. Narrating these stories in the class made them happier.
These children were introduced to the sea of stories that were now within their reach, because they chose to embrace reading in another language. I knew that once this change happened, they would definitely borrow books from the library and read them. This was my little experiment. Such experiments should be carried out with students from time to time. Witnessing their love for books growing, makes me feel satisfied.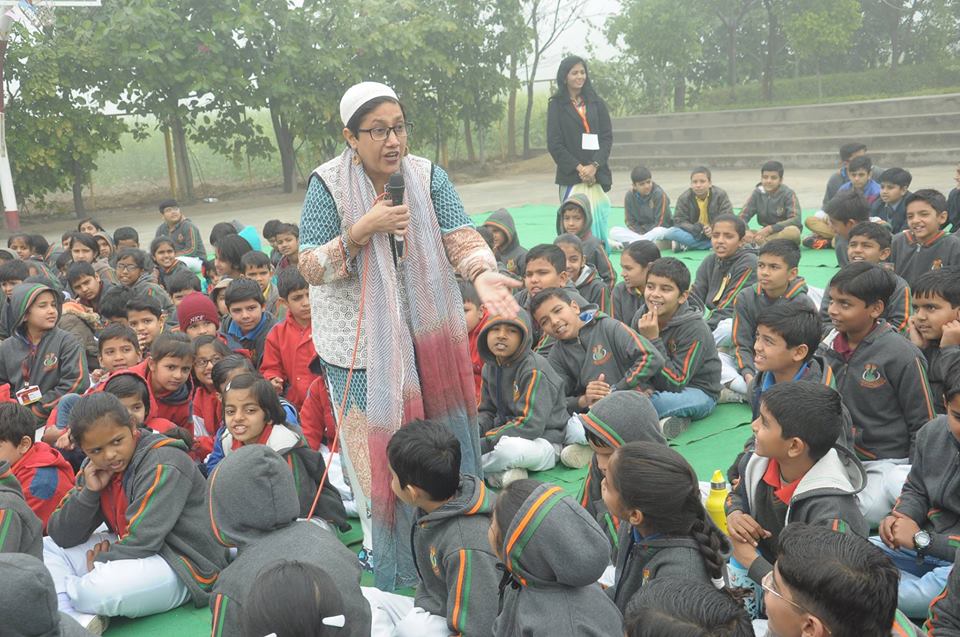 This was indeed a novel experiment. Can stories impact the writing skills of children as well?
Definitely! It's a known fact that kids who read a lot have good imagination. This has a positive impact on their thought process and influences their writing skills as well. I have been associated with the field of teaching for more than twenty years now. Just by looking at the answers that my students write, I can assess their creativity and can tell which child dedicates a good amount of time to reading books.
What would be your advice to parents and other teachers?
I would advise parents to introduce their kids to books and stories at an early age. Parents should spend quality time with their kids. They should start telling stories to kids at an early stage. For their overall development, kids need a lot more than just their textbooks.
Stories are a powerful medium to teach them important lessons in life while helping them develop their writing skills as well. The world is full of stories. Every second a new story is born. Listen to those stories and narrate the best ones to your kids.
*****
Usha Chhabra can be reached at:
Facebook: https://www.facebook.com/usha.chhabra.37
Website: www.ushachhabra.com
You can order Tak-Dhina-Dhin – her collection of Hindi poems for children, which includes a CD recording of the poems for those trying to learn the language, from Amazon at
Or call her at: +91 98997 24872
Know more about her collection of poems for children at: https://www.facebook.com/Tak-Dhina-Dhin-292127754141121/. Read her thought pieces on her blog: anokhipathshala.blogspot.in